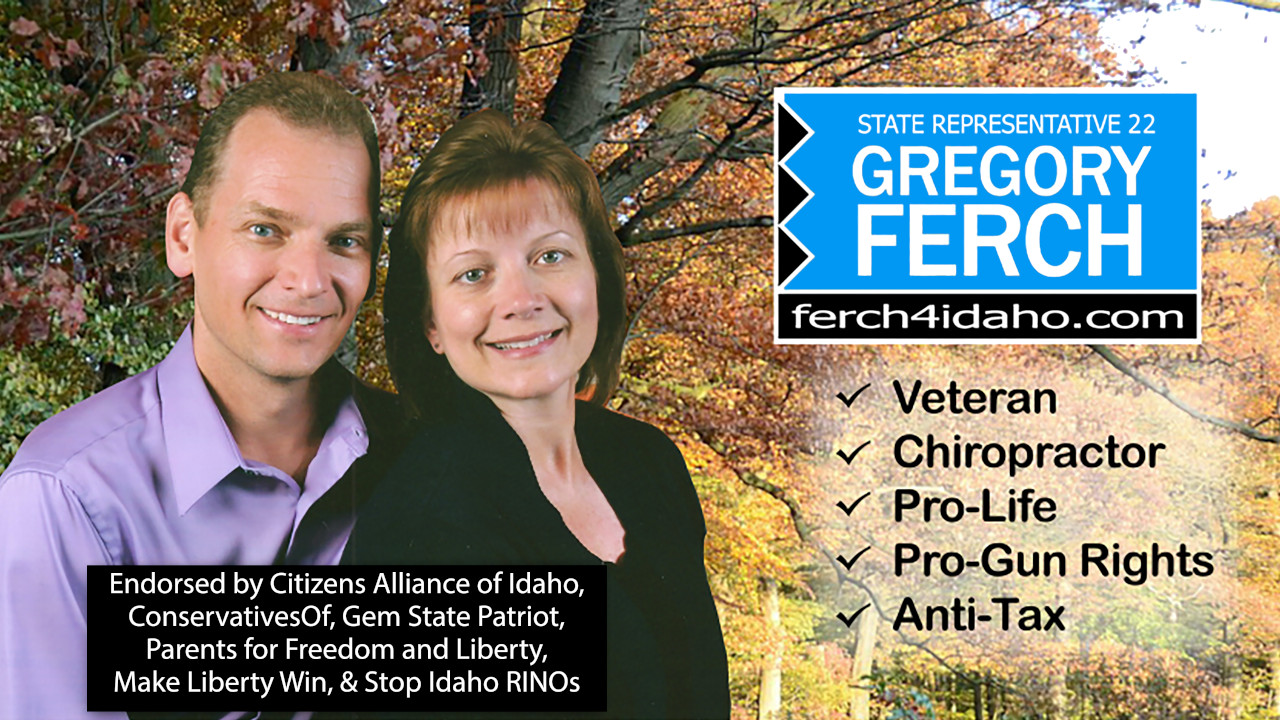 Representation with a Backbone!
Constitution
I believe the Constitution is an inspired document. I agree with Justice Scalia when he said, "The Constitution is not a living organism, It's a legal document, and it says what it says and doesn't say what it doesn't Say." Therefore, there is no penumbra or emanations of the Constitution.
Second Amendment
I consider myself very pro-second amendment. I am a Life Member of the NRA.
Abortion
Abortion stops a beating heart and I am solidly pro-life. In this race, I received the endorsement of Idaho Chooses Life.
Military
Having a WWII Veteran Grandfather, Vietnam Veteran Father, Middle East Combat Controller Veteran twin brothers, a Desert Storm Veteran sister, a prior service sister, and brother, also meeting my wife Angie while we were on active duty, I have strong familial ties to the military. To the extent possible, from a State level, I will always work to support our military personnel. They deserve the best training and equipment possible.
Veterans Issues
I have worked on legislation that would expand healthcare options for veterans and active service members. At my office, we are currently members of a healthcare network that receives referrals from the Boise VA, giving Veterans additional, very effective, and non-opioid treatment options. This is also a huge benefit for the taxpayers.
Education
I believe that every child in Idaho deserves a first-class education including vocational opportunities. My parents were public school teachers and two of my sisters are public school teachers. I was educated in public schools. I think parents should be actively involved in choosing the educational path of their children. I believe we need to pay teachers well but curtail public education waste and bureaucracy. However, simply spending more money per student in no way guarantees students will achieve better results. In my 26 years as an employer, I have probably seen well over a thousand resumes. I would suggest that we need to focus on core subjects and skills that add to the future employability of the students.
Republican Party involvement
I believe in active party involvement and that formal party affiliation is very important. I have been a member of the Republican Party since the 1980s. Officially affiliated with the Idaho Republican Party since about 2012 when affiliation became a thing. I do vote in every election, especially Republican primaries. Here are a few bullet points of my party participation.
1988 North Dakota Republican State Convention delegate.
Former District 18 precinct committeeman and District 18 Chairman.
Former Ada County 1st Vice Chairman and Ada County Chairman.
Former Region 4 Republican Party Vice-Chairman.
I have volunteered for numerous City, County, District, and statewide candidates.
Ran for State Legislature District 18 In 2010.
2016 Delegate to the Republican National Convention in Cleveland.
Current Republican District 21 precinct committeeman, Ada County State Committeeman, and Region 4 Vice Chairman.
I have been a delegate to nearly all of the Republican State Conventions in the last ten years. I have been a delegate to numerous State Central Committee meetings. I have been a member of different committees such as the rules and resolutions committees.
Health Care
As a physician, I believe we need to reduce healthcare costs. The best way to reduce costs is to reduce the need for healthcare. The best way to reduce the need for healthcare is for individuals to make healthier lifestyle decisions. The opioid crisis has been devastating to our communities. We need to squelch philosophic and financial barriers to forms of healthcare that are not contributory to the crisis. A level healthcare playing field and consumer choice are vital to improving outcomes for patients and taxpayers alike.
Taxes
I would like to see us reduce our over-burdensome tax structure and find simplification. For instance, a few years ago we reduced the personal business property tax on some smaller businesses. Having it remain on larger ones is a disincentive for instance, to California fleeing companies. If we can find a way to encourage companies to choose Idaho with a low and simple taxing policy that does not pick winners to the detriment of others, we will continue to attract high paying, competitive jobs. Our children, who graduate from Idaho Universities and colleges, will be able to put that educational investment to use in our communities. I see that as a win. Since everybody pays property taxes in one way or another, I am interested in the plan that would eliminate property taxes and shift to a modest sales tax.